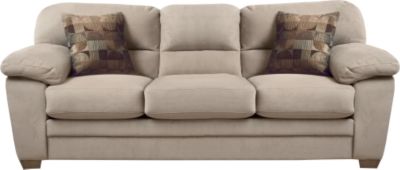 Today I was off work as part of our Green Friday initiative. This is something my office is doing to reduce our gas consumption this summer. By working an extra hour each day, we get every other Friday off. Since this week's Friday is a holiday, I got Thursday off instead. This 4-day weekend is just what I need for moving.
This morning I went to Rooms-to-Go to buy a couch. I had previously spent way too much time sleeping on the couch, so when I moved into my apartment, I very intentionally did not buy a couch. Well, now that I have moved into my house, I need a couch. I don't enjoy shopping very much, especially for major purchases, so I usually pick one store I like, find something, and buy it. If the store has a good selection, I can usually do this in less than 30 minutes. Online shopping just does not work for me for things like this. I need to sit on a couch to consider it.
I picked the above couch, which is a little darker in real life, and was ready to buy, but I was concerned about the size. I knew my "couch wall" was 7 feet, but didn't know the exact measurements. The couch listed at 89″ long. I measured the couch and found it to be as wide as 92″ across the pillow arms. And this was the smallest 3-cushion couch. The next size smaller was about a foot and a half shorter.
I drove home to measure my wall and found it to be 88″ to the outer edge of the molding. I hurried back to Rooms-to-Go to buy the couch for next day (Saturday) delivery. For this delivery, there is no time window. Any time between 7am and 10pm. And they can't even call you 30 minutes ahead of time. Even the cable company does that. Better on a Saturday than a weekday. It will be nice to have more than 2 places for sit.