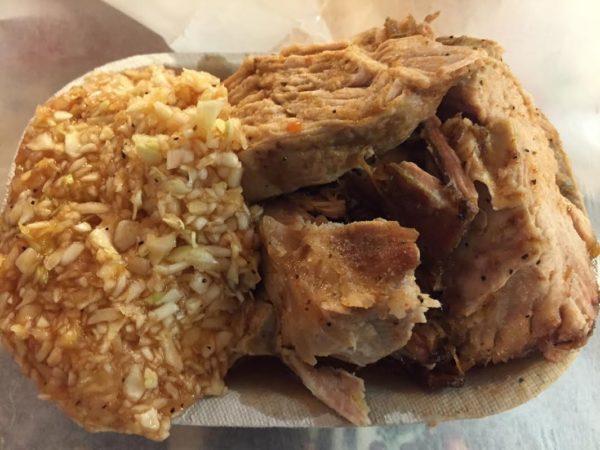 Barbecue is a big deal in North Carolina. And for the uninitiated, barbecue is a noun, not a verb. It always pork, and it is prepared in a specific way. The thing is, there are two specific ways: Eastern NC style and Western NC style. And most varieties of both are smoked over hardwood.
There are three main differences between Eastern and Western style. Eastern NC barbecue is made by smoking whole hogs, while Western NC barbecue is made by smoking pork shoulders. Eastern NC is chopped and Western NC is usually sliced. And finally Eastern NC sauce is vinegar-based and Western NC style is more likely to be a tomato-based.
There are plenty of variations across the state, for example, many Western NC barbecue places serve both chopped and sliced meat. There sometimes appears to be a tomato continuum with places in the middle of state adding some tomato to a vinegar-based sauce, which transitions to a tomato-based sauce as you travel further west.
My love of NC barbecue was cultivated in the middle of the state, but it was always of the Eastern NC style. Whole hog, chopped and vinegar-based sauce. Over the years I have tried many varieties, including those from the west, but I have never really been so big on the sliced part. And while a good tomato-based sauce is nothing like the sweet sludge sold in grocery stores, I do like the lighter vinegar-based sauce.
Whenever I travel to different parts of the state, I like to try barbecue joints that I haven't been to. I frequently start by looking at lists of best barbecue in North Carolina. None of these lists are definitive, but if a place was good enough for someone to put it on a list then it is probably worth trying.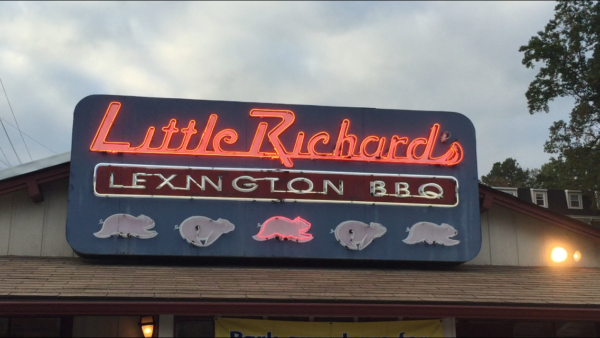 A recent journey took me near Winston-Salem and I discovered Little Richard's. Due to its proximity to Lexington, the home of Western North Carolina Barbecue, that's the style that they serve. As I was reading about it, I learned that they had something called coarse chopped. That sounded like a very different thing and certainly worth a stop.
I walked into what felt more like a 50s style diner than a traditional barbecue joint. It looks small when you walk in, but there are lots of tables around the corner. I grabbed the only empty two-top since it seemed wrong to sit at a table for four when I was alone. As my table was near the door, I saw lots of people coming in for takeout, which seems like a significant part of their business.
I already knew what I wanted, so it was just a matter of figuring out the details. I went with a small coarse chopped tray with barbecue-style slaw and tea (that's sweet iced tea if you're not from around here). The tray is smaller than a plate (one side versus two), but it really is a tray as you can see in the picture above.
The waitress brought my tray just a few minutes after ordering. She also brought some hush puppies. I hadn't really known what to expect from the coarse barbecue. They were big, tender chunks of smoked pork in a light vinegar-tomato sauce, or dip as they call it in Lexington. And it was delicious. Just the right flavor of smoke and a sauce that didn't overpower the taste of the meat. Did I say it was tender?
After living in North Carolina for so long and eating all sorts of North Carolina barbecue for so long, I really didn't think there was something else out there that I had tried. Or even heard of. And wow, it was great. I now have a place to stop and eat when I'm on the western side of Winston-Salem.
As I was paying (cash only, please) I told the woman at the register that it was my first time there. She asked me what I thought. I said it was amazing. She told me that I would have to come back again. I smiled because I knew that I would.
If you want to learn more about barbecue in North Carolina, pick up a copy of Holy Smoke: The Big Book of North Carolina Barbecue. It's history. It's food. It's recipes. And it's the stories behind the places with food that really connects to the culture of a place.