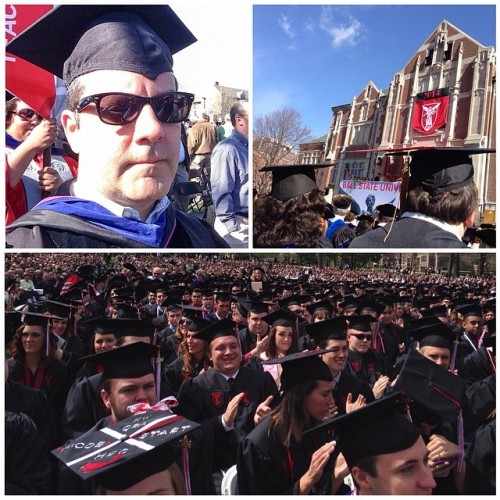 Today was the commencement ceremony, more commonly called graduation, at Ball State University. It marks the end of my first semester in academia. It is also my first commencement ceremony that I attended as a faculty member.
The first thing this meant is that I had to borrow the appropriate attire from a professor who was not attending the ceremony. Bachelor degree candidates, or undergraduates, wear a cap and gown to commencement. But professors wear academic regalia, which consists of a robe, a square mortarboard or a six-sided beret, and a hood, which is more like scarf that hangs down your back. All of these things are symbolic, and they represent the level of your degree, the type of degree and maybe even your school. I have no idea what my robe and hood represented, except that it indicated that I have a PhD. Which I don't.
I arrived early for the main ceremony since I didn't really know where I was supposed to go. One of the faculty marshals for the business college was my new, incoming department chair. The other faculty marshal was late to arrive, so I was drafted to help with the marshalling. That meant I needed to bring up the end of the line of business students and remind them that they needed to remain in a single-file line. The reward for this was that I got to process with the business college and sit down front with them, instead of remaining with the rest of the faculty.
It was the president of the university's last commencement. She is retiring after 10 years leading Ball State. She called herself part of the Class of 2014 because she too is moving on and doesn't know what the future will hold. She did struggle to hold back the tears, and the students cheered her on during a particularly long pause. One of the cool things about being president of Ball State is that there is a presidential mace that is carried in and sits next to the podium during the entire ceremony.
Only PhD's get to come on stage and have their names announced during this larger ceremony. Those earning master's and bachelor's degrees mount the stage and their names are called in the ceremonies for the individual colleges. As a faculty member of the business college, I sat on that stage. My view is below.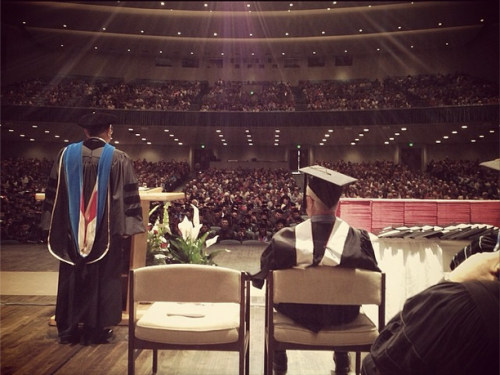 The following are some notes from these both of these ceremonies:
In the days when I graduated mortarboards were decorated with packing tape to say things like "hi mom" or "thanks mom and dad," but today's students actually bedazzle their mortarboards with much more complicated patterns and messages.
Two students were recognized at the main ceremony for graduating college with a 4.0 GPA. And in hard majors like Chemistry.
In the business college ceremony with approximately 300 students walking across the stage, only two of them took selfies from the stage.
As the names were read off during the business college ceremony it was not just students who cheered for other students. You could tell how proud some of the families were with their new college graduates by how loudly they whooped and hollered.
In the parade of students walking across the stage picking up their degrees, it was like a fashion show of current styles of women's shoes. This is not surprising since they are 22-year-old women.
I only noticed two male students wearing shorts under their graduation robes.
These are the students who have grown up getting trophies for participation in peewee sports leagues. It's clear that this sort of recognition has continued because many of the graduates were decked out in an assortment of cords, medals and sashes honoring some of their many achievements in college.