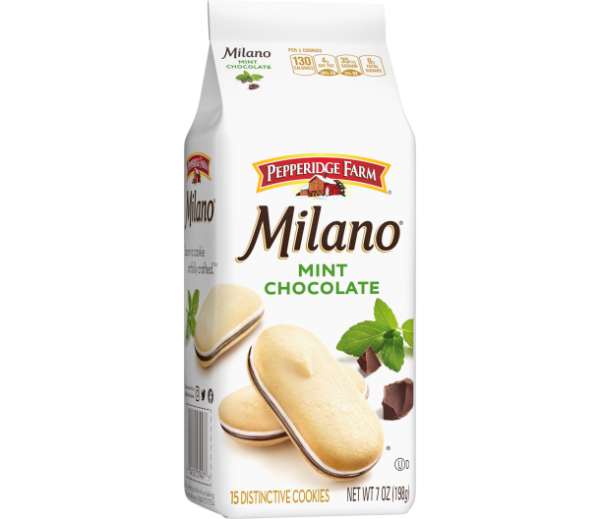 When I was growing up in 1970s, I loved Pepperidge Farm Milano cookies. They were the perfect mix of cookie and rich, dark chocolate. There were about six or eight other chocolate filled Pepperidge Farm cookies at the time, things like Brussels and Tahoe, but Milano were the best.
I lost touch with Milanos in high school, but rediscovered Mint Milanos in college. They had managed to take a perfect cookie and improve it by adding the cool, smooth mint. We could buy these fantastic cookies on meal points, and boy did I buy a lot of them. Combined with 11:00 pm steak and cheese heroes and milkshakes, they did their part to support the Freshman 15.
Much time has passed, in fact I just got an invitation to my 20th college reunion coming up this Spring, and I have lost touch with one of my favorite childhood cookies. I have other favorite cookies that have other associations, but that's another story for another day. Anyway, I was in the grocery store and noticed something called Black and White Milanos. These have one chocolate cookie and one white cookie. I managed to walk on by these cookies, but it seemed like a good time to look up the varieties of Milanos.
According to Pepperidge Farm website, there are currently nine varieties:
Milano
Double Chocolate Milano
Milk Chocolate Milano
Mint Milano
Raspberry Milano
Orange Milano
French Vanilla Milano
Black & White Milano
Amaretto Milano
Plus Mini Mint Milanos
It seems that over the years, this perfect cookie has become gentrified and has grown up with its lovers. No self-respecting kid would ever ask for Amaretto or French Vanilla Milanos. I don't think I would either. I would stick to the traditional or mint flavors only, and leave it at that. These are not cookies to fan out while entertaining. They are just cookies. But good ones.
2020 Variety Update: Dark Chocolate, Dark Chocolate Sea Salt, Double Dark Chocolate, Milk Chocolate, Double Milk Chocolate, Mint, Coconut, Lemon, Orange, Raspberry, Strawberry, Salted Caramel, Toasted Marshmallow, Caramel Macchiato, Irish Cream
2020 Seasonal Varieties: Banana, Candy Cane, Pumpkin Spice