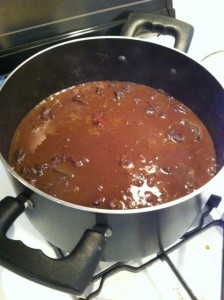 Today I tweeted that I put on a pot of chili and I was asked for the recipe by Matt. The easiest way to share the recipe was to share it here. I usually cook by feel, and recipes are never quite the same each time, but I'll try to standardize it here. It will probably be more like a blog post than a recipe, but that's how I think.
1 bag of black beans
Oil
3-4 cloves of garlic
1 onion
1 green pepper
1 lb of beef, cubed (you can also use chicken or turkey, but use cubed, not ground. It's a texture thing)
1 large can of whole tomatoes
Salt
Pepper
Cumin
Cayenne Pepper
Oregano
1 bottle of dark beer (optional, if you need more liquid)
I always start with dry beans. This means you need to plan ahead, as they need to soak overnight. Rinse the black beans in a colander. Add the beans to a stock pot and cover with water. Keep in mind that the beans will absorb two to three times the volume of water, so there needs to be plenty of water to cook the beans. Cover and let sit overnight.
Finely chop the garlic and saute in a small amount of oil. Coarsely chop the green pepper and onion add to the pan, occasionally stirring. If you are using fresh chilis or jalapenos for spice instead of cayenne pepper, you can finely chop them and saute them with the rest of the vegetables. When everything is cooked tender, or caramelized in the case of the onions, dump contents of the pan into the stock pot.
Cube the beef and cook in the pan you just used for the onions, peppers and garlic. Add a touch more oil if needed. Add some salt, pepper and cumin to the meat as you are sauteing it. When the meat is fully brown, add it to the stock pot. Pour entire can of whole tomatoes into the pot, including the liquid. If there is not enough liquid, you can add a bottle of dark beer.
Add some salt, pepper, cayenne pepper, cumin and oregano to the pot. Since this is by taste, after the chili is cooked, you can fine tune these spices by taste. None of these spices cook in the chili, but the cumin will make it smell like you are cooking chili.
Turn on the heat to bring water to a boil. Once it reaches a boil, turn down the heat to simmer, stirring occasionally. Simmer uncovered for at least 2 hours. The longer you can simmer, the better it will be. Cook until the beans are tender, the tomatoes have cooked down and the liquid has been reduced. Taste and fine tune the spices, especially the salt and the cayenne pepper.
Serve over rice or with cornbread. Cube sharp cheddar cheese to put on top.