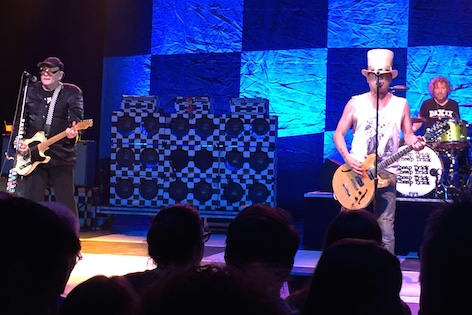 The world's content marketers are gathered in Cleveland, Ohio for Content Marketing World. This huge show has over 3500 attendees from 60 countries. There are entire tracks on storytelling, demand generation, native advertising and a whole lot more. With over 150 sessions, content marketers can find lots of options for delving into the nuances of this world.
Every year the Content Marketing Institute collects data to benchmark how we are doing, and there is always a preview of this report at the yearly conference. Joe Pulizzi only presented one statistic in his opening keynote.
And he called it the most important stat in the report.
Only 20% of marketers are fully committed to content marketing.
In the words of Ann Handley, "Wait, What?"
That's right, we have content marketers admitting that they are not that into it. Oh sure, they're doing content marketing, but mainly to check the box and say their doing it. Maybe they just can't get the commitment from their boss to be fully into it, but they believe in it themselves. Or maybe not.
This is a very low percentage for a marketing approach that is proven to work and focuses on customer needs rather than product specifications. Especially for something that 88% said they do. Oh, but they are not fully committed to it.
Joe summarized the common approach to content marketing as follows. He called this the rule.
"Have" to do content marketing
More content – but nothing different
No consistency
More promotion than value
Targeted more than one audience
If this sounds like your approach to content marketing, you really need to re-think what you are doing. Do you really understand what content marketing is? Do you understand the benefits? Are you touting that you are a customer-centric business, yet your marketing does not really take into account your prospects' and customers' common business problems? And no, your product is not the solution to their problems. Good content marketing can be.
And here is how content marketers who are the the exception to the rule approach things:
One audience with one message/mission
Telling a different story
Consistently over time
Build value outside the products and services you offer
The only way you can get to this level is committing fully to using content marketing.Yes, it takes time to implement. Yes, it takes time to see results. But they are there and they are real. It is a way to build real relationships with prospects who become customers who become advocates. This is a way to be more than just another vendor.
The band Cheap Trick (seen above) played at the conference and put on a fun show. They were recently inducted into the Rock and Roll Hall of Fame, just down the street. They performed in this same venue for a packed house. But they were fully committed to their music and our smaller audience. They've been playing music for 40 years and nobody would question their commitment after all this time.
This post originally appeared on the Modern Marketing blog.