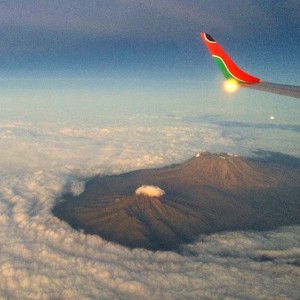 If you have seen me in person in the last six months, or talked to me for any length of time, then you probably know about my big trip this summer. If you have only seen my updates online, then this is a surprise to you.
I am climbing a mountain. A big mountain.
Next week I leave on a trip to Africa to climb Mt. Kilimanjaro. It is 19,340 feet high. It is the world's largest free-standing mountain and the highest point you can get to on Earth by hiking. That means there is no technical mountain climbing involved. No fancy equipment like harnesses or ropes or caribiners. Just hiking boots, trekking poles and lots of layers.
One thing to know about Mt Kilimanjaro is that even though it is located on the equator in Tanzania, the weather on the mountain is based on altitude. There are five climate zones that we will travel through on our hike to the summit: bushland, forest, heath, alpine and arctic. That is why this trip is sometimes described as hiking from the equator to the pole in one week.
And then there is the altitude. The amount of oxygen in the air at 18,000 feet is half of that at sea level. The trip is designed so that our bodies can slowly acclimate to the lower oxygen levels. We do not need to bring bottled oxygen like they do on higher climbs.
Here are some reference points about how high that is.
The Willis Tower Skydeck in Chicago is 1,353 feet high.
Denver, Colorado is called the Mile-High City. There is spot in downtown Denver that is marked as 5,280 feet above sea level.
Mt. Mitchell, here in North Carolina, is the highest point east of the Mississippi at 6,684 feet. I hiked up to the summit last month.
Mt. Whitney, located in the Sierra Nevadas in California, is the highest point in the continental United States at 14,505 feet.
Mt. McKinley in Alaska's Denali National Park is the highest point in the United States at 20,236 feet. I flew over it in an airplane last summer.
So you may wonder why I am climbing Mt. Kilimanjaro? I can thank my world traveler friend, Emily. After returning from a safari and scuba trip in Kenya and Tanzania last fall, she was particularly inspired by Mt. Kilimanjaro. That's her picture at the beginning of this post. She asked me if I wanted to climb it with her and I said yes. We booked the trip in early November and have been training and accumulating gear ever since.
In the year we have been friends, we have been ice climbing and glacier hiking in Alaska, bike riding in Idaho, hiking in Montana and Utah, snowshoeing in Oregon and sightseeing in Chicago (including the Willis Tower Skydeck). This trip will be more intense than anything else we did together.
How did I train to climb a mountain while living in Indiana? I ran a lot (I was training for my first half-marathon, too). And I went hiking whenever I could. Even though the highest point in the state of Indiana is only 1,257 feet above sea level, there are plenty of hilly hiking spots in southern Indiana. I hiked my way through the state parks along the southern and western borders. Brown County State Park has hills with elevation gains of 400-500 feet. It doesn't sound like much, but that's pretty hilly for such a flat state. As the glaciers moved south during the Ice Age, flattening everything in their path, this is the point where they stopped. So this is where the hills start.
The good thing about being in Indiana was that I did a lot of cold weather hiking to learn about different layers that keep you warm. I frequently went out on a day hike where the starting temperature was in the high 20s. I wore different shirts, jackets, hats and gloves. I have since changed from nylon, dri-fit style running clothes to merino wool layers that are designed for hiking. They have similar wicking properties (moving moisture away from your skin), but they also claim to reduce odor. That's an important consideration on an eight day hike.
The bad thing was that I was not able do any altitude training. Not in Indiana or in North Carolina. So I had to make do with lots of hiking. And since I have been back in North Carolina, I hiked up both Mt. Mitchell (6,684 ft and 3,600 feet of elevation gain) and Grandfather Mountain (5,964 feet and 2,100 feet of elevation gain). I was able to do long, strenuous hikes with decent elevation, but it did not give me a sense of how my body will react to the altitude.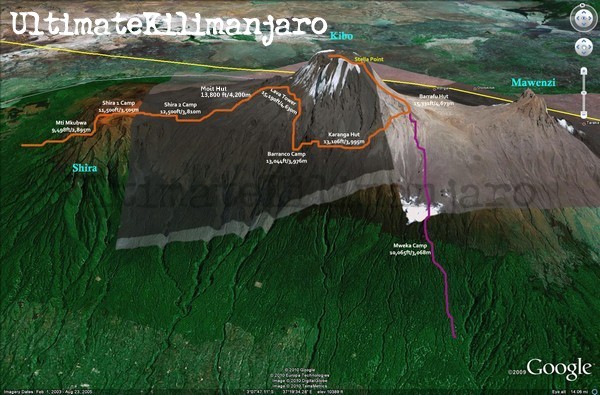 The above map shows our eight day route, which is a total of 43 miles. It is called the Lemosho Route, and has one of the highest rates of success of summiting because there is more time to get acclimated to the altitude. That is the primary reason climbers do not make the summit. Although sometimes the weather prevents it too.
We will be hiking with day packs only, while our sleeping bags, tents, food and other gear are carried by porters. It is important to keep the weight down of our daily gear and our overall gear. This limits what we can bring, so big cameras, heavy books and lots of changes of clothes are out. And since there is no power and cell signal on the mountain, an iphone as a camera is of limited use. Although I do plan to mostly keep my phone off and will only turn it on occasionally for limited pictures. Emily is bringing a point and shoot camera that we will share, and I am bringing my Holga camera, which is lightweight plastic and shoots film.
Most days we expect to hike all day, but day seven is the really tough one. We wake up at midnight from our camp at 15,000 feet. We climb three miles, in the dark, over rocky terrain, with an elevation gain of 4,000 feet. That's very steep. But there is a full moon that night, and the pay off is that we are on the summit for sunrise. It's not a place for lingering, as current temperature on the summit is about 20 degrees. Over the course of the rest of the day, we descend over 9,000 feet of elevation. We camp for our final night on the mountain and hike the rest of the way down the next day.
And because you can't go all the way to Africa without seeing animals, we are doing three days of safari drives in Lake Manyara, Ngorongoro Crater and Tarangire after the mountain hike.
So if you see me or talk to me any time after I come back from Africa, I'm sure that I will tell you all about my trip. And I'll have some pictures to share.