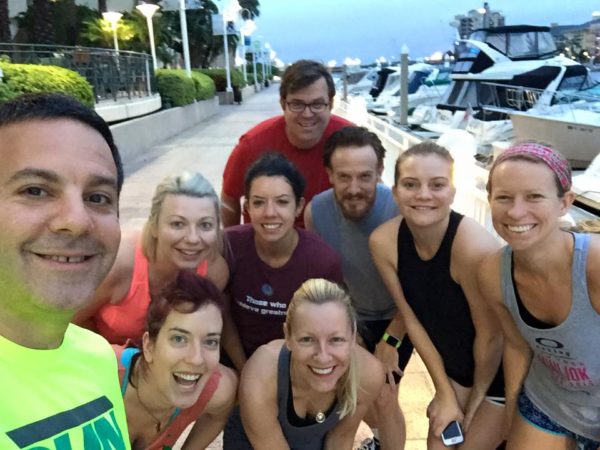 The sponsorship possibilities at most conferences are endless. Keynotes are sponsored. Lunch is sponsored. Of course all of the cocktail receptions are sponsored. But what if you could sponsor an event that shows you care about your customers.
Not just pretend to care about them, but really care about them.
Many conference attendees throw their workout clothes and running shoes into their suitcases, but never quite have the motivation to use them when they travel for business. With all the sitting, eating, drinking and late nights at most conferences, the last thing people want to do is roll out of bed at sunrise and go for a run.
You can provide that incentive to get people to start their day with some exercise by sponsoring, or at least organizing, a group run. And they will thank you. But where's the business connection?
The size and the nature of the event can determine how you approach this. If it is a smaller event, you can just arrange something informal. Post information about the run on Twitter and in a Facebook Group, if the event has one. Talk up the run and get people to share it, both online and off.
As people arrive to the morning run, introduce yourself. Don't be too salesy, but you can ask them to stop by your booth or attend a session to learn more about what you do. Even when there's not a hard sell, you are still networking and making connections that could be beneficial for your business.
This informal approach doesn't need the blessing of the conference organizers, but they can help you spread the word. They generally support these kinds of outside networking activities because it adds to the enjoyment of the conference.
A morning run, or a series of morning runs, can also be an official sponsored part of the conference. This way you can get listed in the program and events schedule, but that also means you may get lots of participation. I have seen a running shoe brand enlist the help of a local running club to lead a big run like this over multiple days.
When doing this more formal approach, you need registration for the run, whether it's your own landing page or through conference registration. By making pre-registration required, you will always get many more people signing up than showing up. That's good from a lead generation perspective.
You may want to consider an incentive to get attendees sign up. Runners like t-shirts. Everyone likes gift cards.
Even though you have everyone's information from the registration form, make sure people from your company connect and chat with the runners. This is still a networking opportunity. And someone should run with them too.
And finally, once these people are in your system, don't inundate them with marketing messages. They are runners who enjoyed that extra incentive to help them get out in the morning. You showed them that you cared about them and their health while they are on the road. Don't stop caring and fill up their inbox.
This post originally appeared on the Modern Marketing Blog.