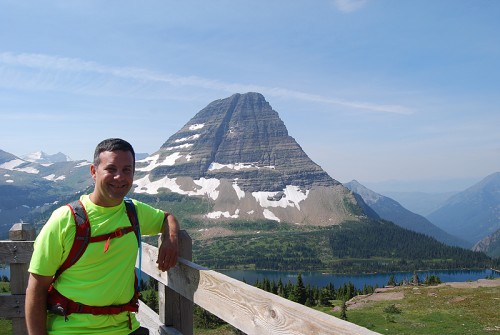 I finished my summer travel by making it to my 48th state. To get to Montana I had to fly into Spokane, Washington, and pass through Idaho. My destination was Glacier National Park, and I was traveling with my friend Emily, who I met in Alaska a mere 6 weeks before.

It turns out it was a record year for Glacier National Park, as they had welcomed 2,238,761 people in 2014 through September 30. And we were two of them.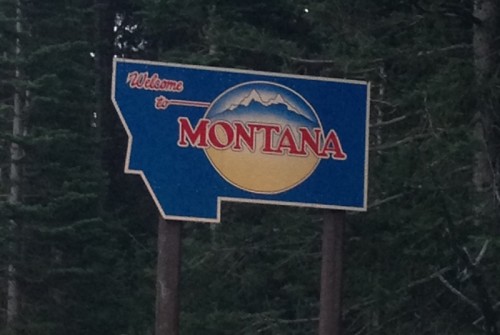 Our first stop in Montana was to get a bite to eat at Frosty's in St. Regis. I was interested in getting a Huckleberry shake. Everywhere you go in Montana, there are huckleberries. I also had a crazy huge double chili cheeseburger. Emily got a Frosty burger and fries. These were definitely vacation calories, so they didn't count. As we were driving we kept seeing signs for huckleberries and cherries. We would eventually sample the local varieties of both.
It was an uneventful drive across western Montana that started in the mountains and went through the flatlands. When we arrived in Glacier National Park it was as if we stepped back in time. We were in the land of unanswered questions. The park does not have cell reception. Or wifi. It was nice to be truly unconnected, but it meant that if some question came up, the answer could not be easily found. I also needed to check on a family situation, at least by text message, and that was not possible.
I thought the lodges in the park would have wifi, and since we ate several meals there, that we would be able to get access. Not only was there no public access if you were not a guest, but the staff told me how unreliable it was. I was told that I could drive about 7 miles from one of the park entrances and go to the top of a hill. Sometimes you could get service there. It would be enough to receive texts. We drove there one night. No service.
The east side of the park, where we were staying, was completely unconnected, but areas west of the park had cell service. That meant during a chance encounter with reception at a visitor's center I was overwhelmed with the decision of what pictures to Instagram after three days in the park.
Camping
Since we planned the trip in the middle of the summer for later in the summer, all the lodges and hotels in the park were full. So rather than stay outside the park, we decided we would stay in a campground where we could reserve our campsite. We chose one that had bathrooms and showers too. The St. Mary's campground on the eastern edge of the park was the only campground that met those qualifications. And we couldn't even reserve one site for all four nights. We would have to move to another site after two nights.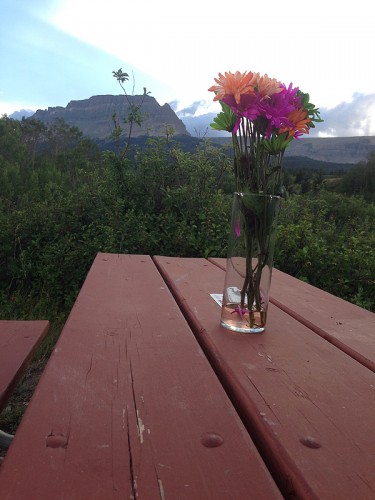 When I say that we went camping in Glacier National Park, that may sound more rugged than it actually was. This was car camping. We drove right onto our campsite, took the tent out of the car and set it up. Our main concern that first night was that we got there before dark so we didn't have to set up the tent in the dark. Our tent was up well before sunset.
The other thing about our camping adventure was that our tent was only our sleeping accommodations. We did not bring food or things for food preparation at the campsite. Well, except Emily did bring marshmallows so that we could roast them over a campfire one night. That first night we drove to a nearby store to get some supplies, including beer, but it turned out that the area right outside the park was on a reservation and due to a Native American celebration, no alcohol could be sold until Monday. It was Friday night.
There was a convenience store inside the park, where we were able to purchase some local craft beer, including Going to the Sun IPA. They call it drinkable. We called it bland, boring and not much like an IPA.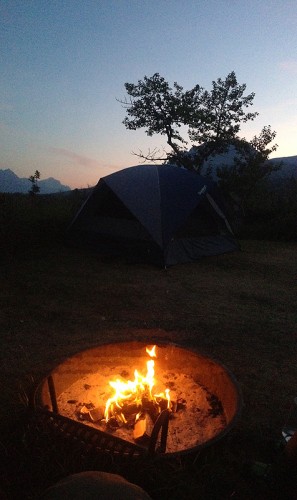 Hiking
One of our main activities on this trip was hiking, and we started with a ranger-led hike to Iceberg Lake. This 9.6 mile hike has an elevation of 1245 feet. Our ranger was a geologist, so while she did know about the local flora, she really knew about the red and green sedimentary rocks all around us and the formation of the mountains in the park.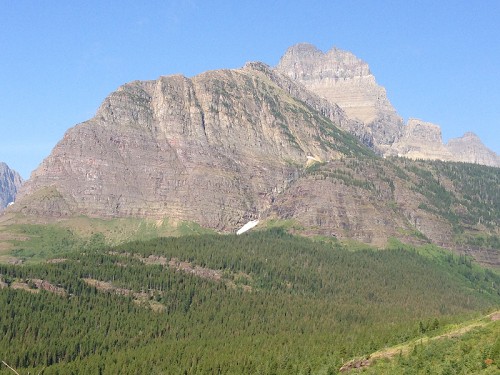 Iceberg Lake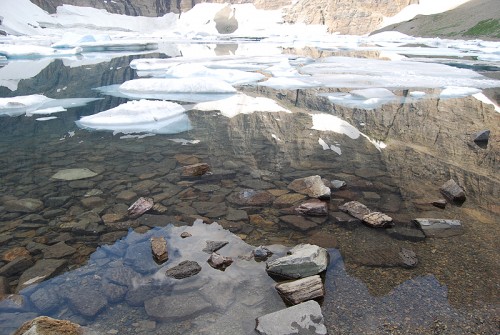 Iceberg Lake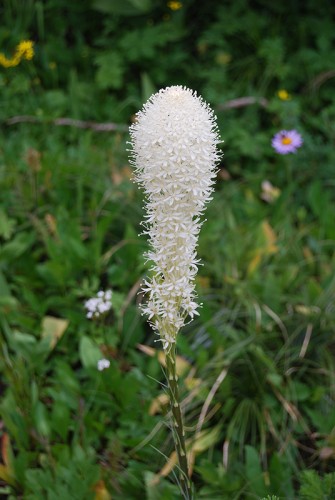 Bear Grass
Rather than return after this hike, we took the spur trail up to Ptarmigan Tunnel. This is a 240 foot tunnel that was blasted through the mountain in 1930 so people, and horses, could make a shorter trip to the next valley. This added about 5 miles and 1127 feet of elevation to our hiking that day.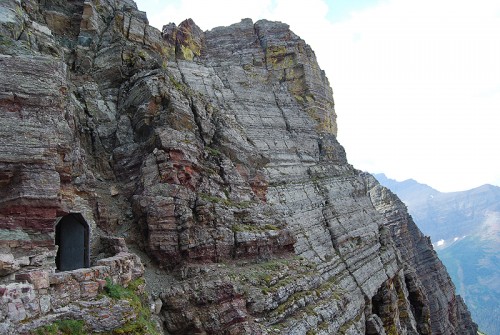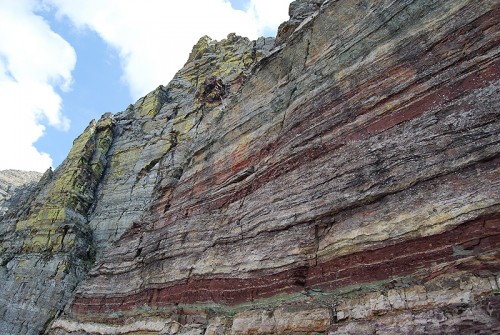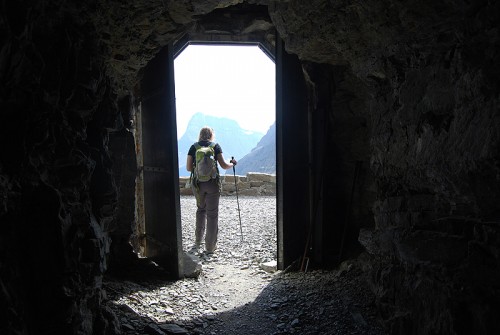 The main road through the park is called Going to the Sun Road. It crosses the Continental Divide at Logan Pass. There is a visitor's center and the trailhead for the most hiked trail in the park at the pass. And a large parking lot, which fills up early. After a long hike the day before, nearly 15 miles, we were ready for a short hike. The trail to Hidden Lake and back is about 5 miles, and the first part is paved, followed by a boardwalk to keep hikers off the grass and wildflowers.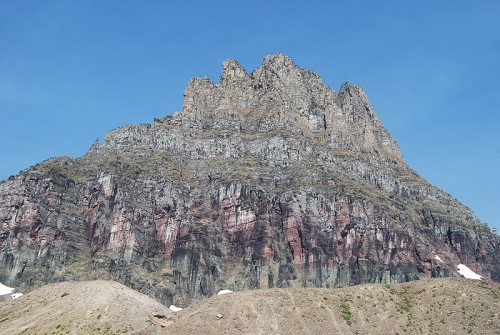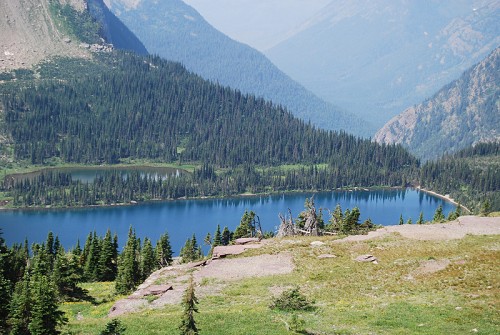 Hidden Lake
And our final hike of the trip involved a trip to Canada. Just over the border from Glacier National Park is Waterton Lakes National Park in Alberta (yay, another province). There is an 11 mile hike up to Crypt Lake, with an elevation of 2130 feet. Some say it is one of the best hikes in the Canadian Rockies. And who can resist a superlative?
The hike begins with short boat ride to the trailhead. There are two boats in the morning and two in the afternoon. If you miss the second boat back, then it is a long walk around the lake. So we wanted to make sure we got the first boat out to give ourselves enough time to be back in time to get picked up by the second boat.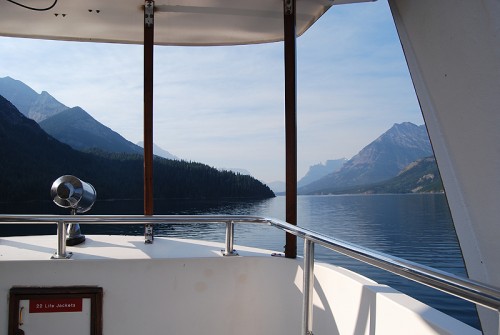 The day started with a border crossing. Or more specifically, waiting at the border for 45 minutes. Some border crossing delays are due to crowds. This crossing wasn't open yet. It took less time than we thought to get to the border, and we had to wait until 7:00am for it to open. We got to the park early. We got to the boat dock early. We really wanted to be on that first boat.
The trail started in the woods and eventually came out onto a rocky series of switchbacks.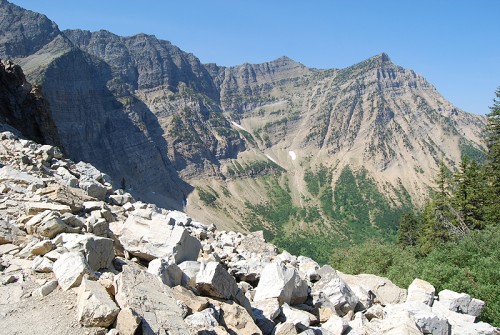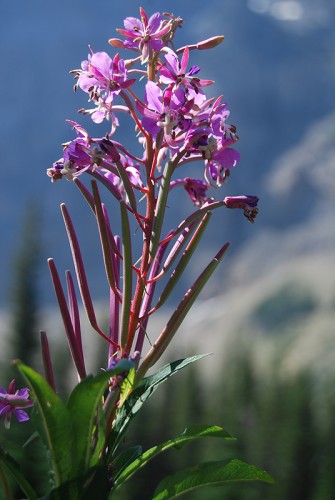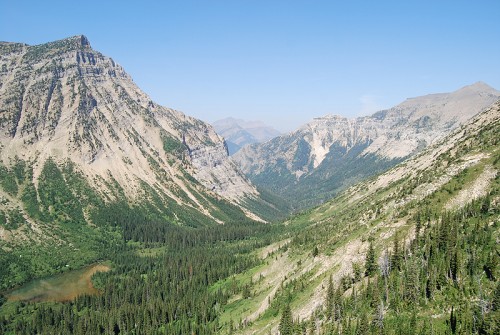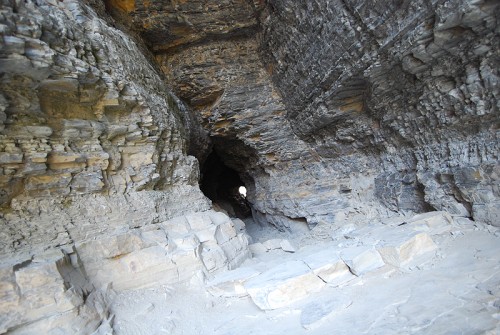 The trail features a cave that you have to climb through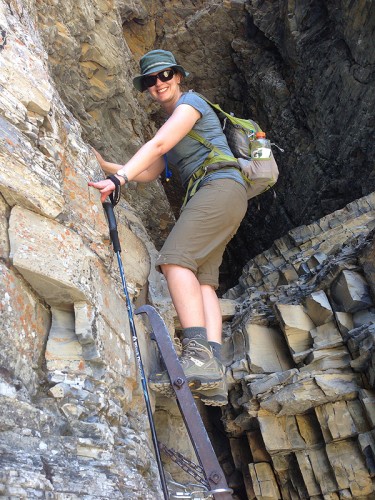 A ladder that you need to climb up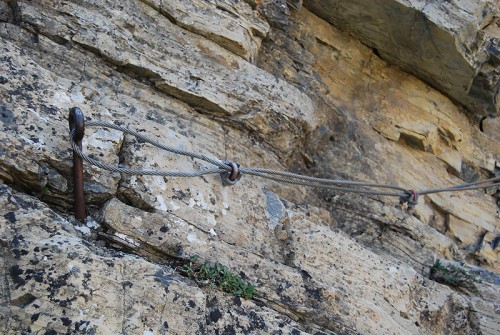 And a cable attached to the rock that you can hold to keep from plunging over the edge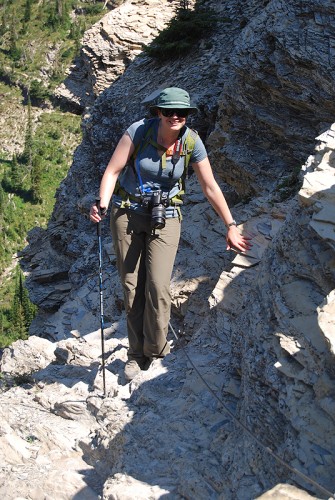 Crypt Lake. See panoramas below for another shot of the lake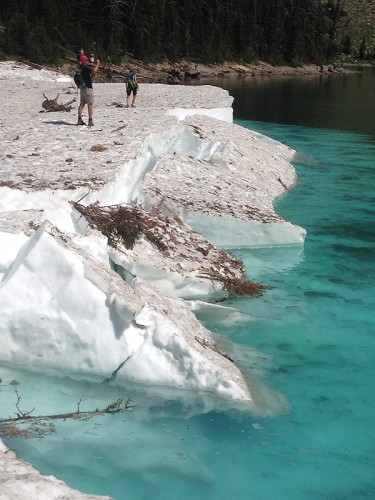 Watch for the cracking ice. It was super loud.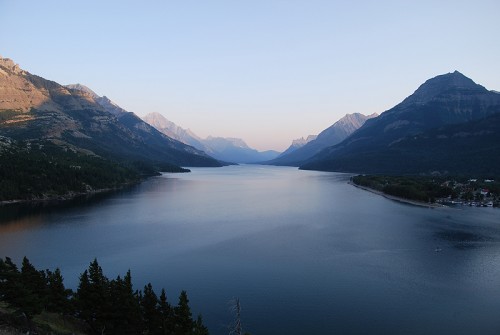 Waterton Lake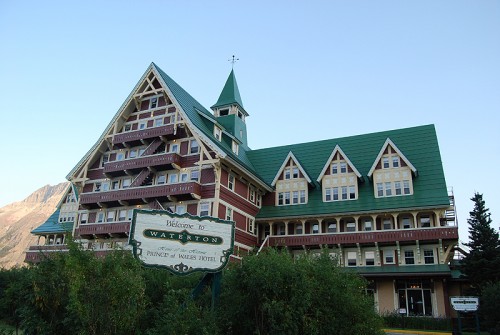 Prince of Wales Hotel, where we ate dinner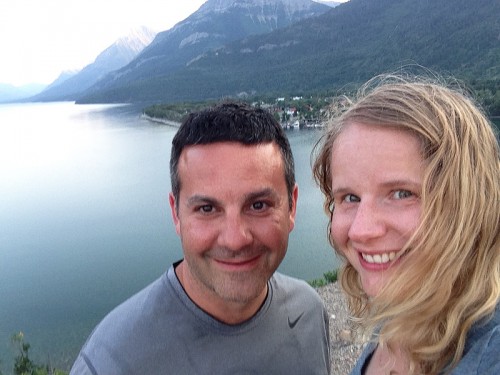 Me and Emily with the lake in the background
Boating
I really wanted to spend some time on the water on this trip. We had planned on going kayaking one day, but with all the strenuous hiking it didn't seem like the best idea. And not every lake had kayaks for rent. We found ourselves at Lake MacDonald where they rented 8HP motor boats. This sounded like fun. And it got us out on the water, at water level. You see things differently then if you are on a tour boat. And the name of our boat was Cutthroat.
I started out driving the boat and Emily sat in the middle. I was going kind of slow. After a while Emily took over the control. She tried to open it up, but with me in the middle the bow was raised in the air. I moved to the bow and boat leveled out. This really let us speed along the lake. And Emily had a blast piloting the boat.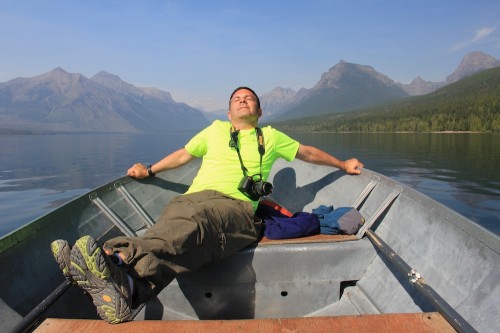 I relaxed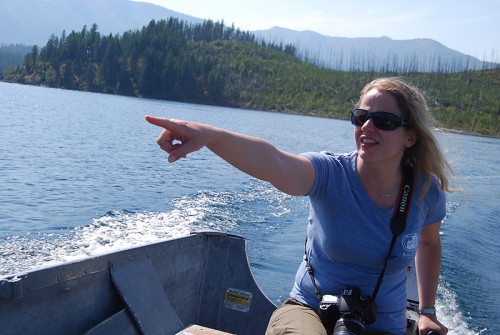 And Captain Emily pointed at the shore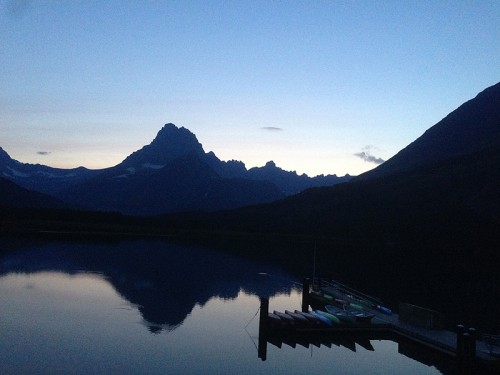 View from the Many Glacier Lodge
Wildlife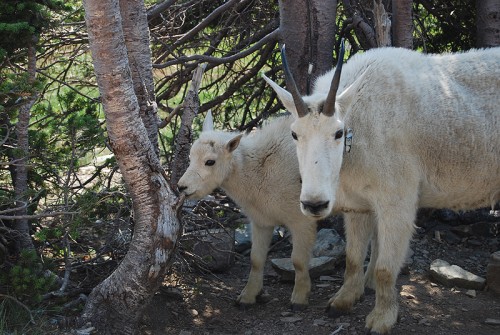 We saw lots of wildlife on the trip. Much of it was fleeting, or too far away for me to photograph, but we saw nearly everything you would expect. See the list below. Although we did not see a moose. And most of the things we saw, we saw more than once and on multiple days.
We talked about bears a lot as we prepared for the trip. I really did not want to get eaten by a bear. But I did want to see one. The thing to know about bears, especially where hiking in the woods, is that bears don't like humans and will generally try to avoid them. That means you need to make as much noise as possible and sounds as human as possible when you are in bear country. A bear whistle that sounds like a bird, or something else that a bear likes to eat, will get you eaten. But talking loudly, singing and even calling out to bears keeps them away. And we did all that on our hikes.
On the way down from our Crypt Lake hike, we took the turn off on the Hellroaring Canyon trail. We were expecting to see a big waterfall, but it was more like a series of rock lined channels that water flowed through. It looked like a log flume ride at an amusement park. The water formed a pool at the bottom. And standing in the pool was very large bear that had just climbed down the bank on the other side. It was almost certainly a grizzly bear. It was much larger than the black bears we had seen.
We started making noise. A lot of noise. We wanted to make sure he went back up the bank on the other side. We really didn't have anywhere to go if he came up our bank. It seemed to work. He went up the other side. And for the rest of that hike our half-hearted attempts to sound human on the trail got louder and more deliberate. We made a lot of noise. No bear was going to mistake us for prey.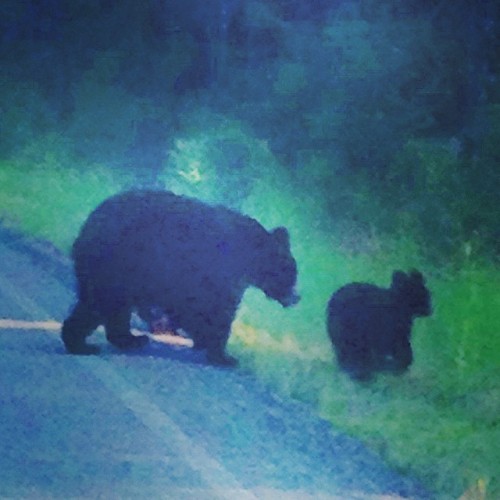 Here's the list of what we saw:
Mountain goat
Big horn sheep
Ground squirrel
Chipmunk
Ptarmigan grouse
Marmot
Snake
Fox
Lynx
Marmot
Chipmunk
Bald eagle
Deer
Black bear
Grizzly bear
Elk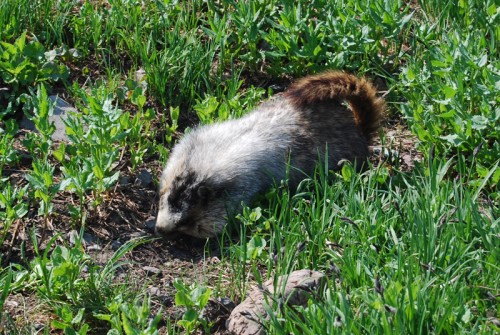 Marmot
Panoramas
Montana is called big sky country, but I would be tempted to call it big land country. Especially when trying to take pictures. Emily and I had digital SLR cameras, which worked fine when we wanted to take pictures of things, but when we were trying to capture the broad expanses of land and water, panorama mode on our iphones worked better. Below are a number of panoramas that you can click on and view larger.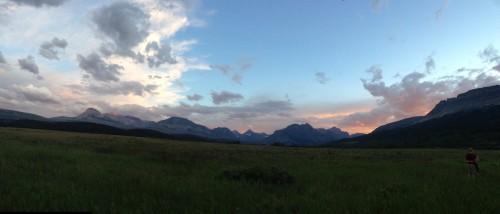 Sunset on the eastern entrance of the park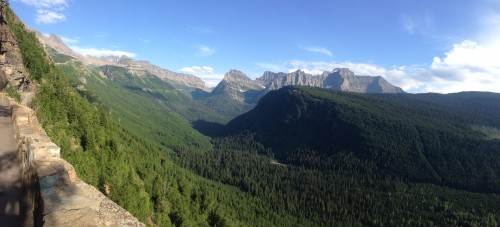 View from Going to the Sun Road


View from the Trail


Iceberg Lake


View from Many Glacier Lodge


Hidden Lake


Crypt Lake


Crypt Lake


Waterton Lake

Sunset at Waterton Lakes National Park
It was a great time in a majestic part of the country. And now there are only 2 states to go. Amazing what you can accomplish when you have goals.
Here's a link to all the pictures on Flickr.