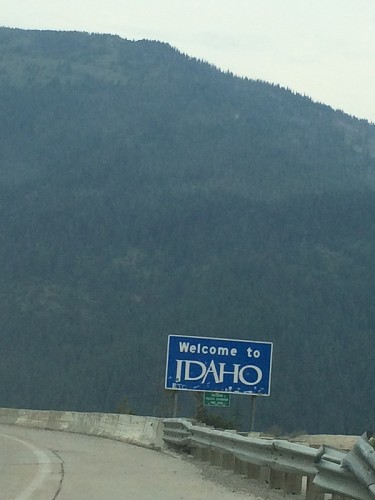 I knew my trip to Alaska this summer would get me closer to my 50 states, but I didn't know that it would help me get two more states. While in Alaska I met fellow traveler, and now my friend, Emily. When I told her about my need to go to Idaho and Montana, she offered to join me. She lives in Portland, Oregon and it would only be a short, five-hour drive to pick me up at the Spokane, Washington airport, before heading across Idaho and into Montana.
We started planning the trip for early August, before I started classes, shortly after we returned from Alaska in June. Since my plane would be getting in late to Spokane, we decided it made the most sense to drive only 45 minutes to Coeur d'Alene, Idaho and spend the night, rather than driving all the way to Glacier National Park. Even though an overnight stay would let me count Idaho, I really wanted to do something while we were there. We decided to go for a bike ride on the Route of the Hiawatha, an old railroad line converted to a trail, before heading to Montana.
I had asked Emily to meet me inside the airport. With all the traveling I do, I am almost never met in the airport. I just wanted to be greeted by someone that I knew. She greeted me with flowers. The ugliest flowers she could find. At Walmart. And it was off to the Super8 in Coeur d'Alene. We were traveling in high style.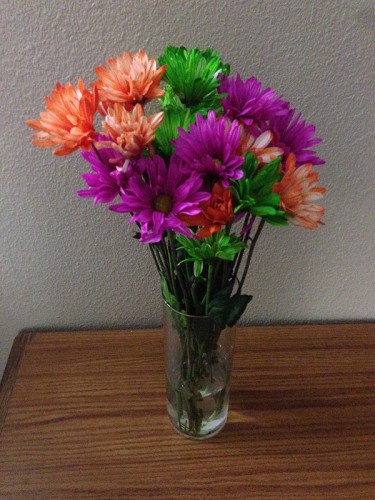 It proved to be more challenging to find that Super8 that we anticipated. The travel app I use, Tripit, launched the map and directions to the wrong location. It showed the right address but told the map to take us to the wrong address. We were driving around a part of Coeur d'Alene where it was very unlikely for a hotel to be. We reset the map and were taken back towards the Interstate. And like a beacon in the night, there was the Super8.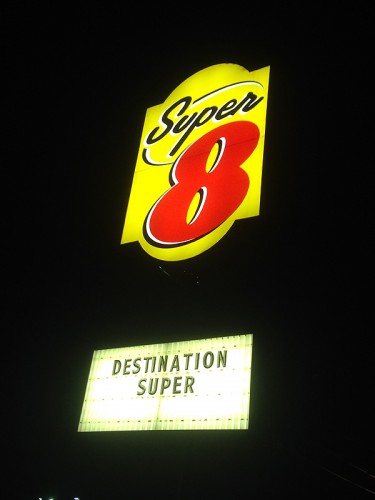 After a breakfast that included L'il Yami yogurt, we drove to the bike rental place. It was on the border of Idaho and Montana. There was some confusion about what time they opened and how long it took to get there. Northern Idaho is in the Pacific Time Zone and Montana is in the Mountain Time Zone. Regardless of all this, we were there well before they opened and waited in the car for about a half hour. We eventually got our bikes, loaded them on the bike rack and drove into Montana to the start of the trail. Even though it starts in Montana, the trail quickly crosses back into Idaho for most of the ride.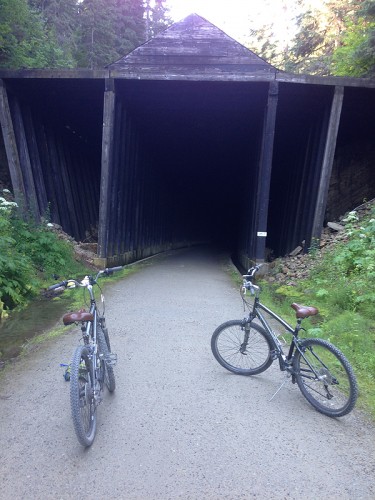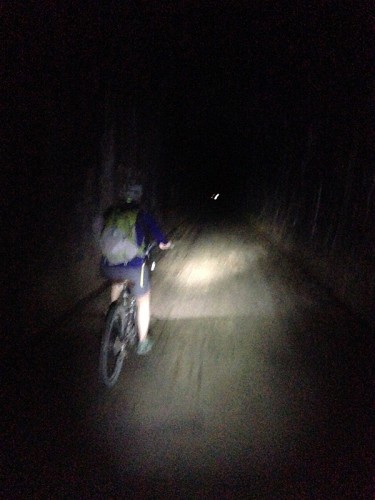 The trail begins in a tunnel. It is dark, cold and wet. How cold? About 45 degrees. And it's 1.7 miles long. That's why the bikes are equipped with headlights. It was an unusual experience riding through such a long tunnel. There were other tunnels on the trail, but none anywhere near as long. The whole trail is about 15 miles long, and it's mostly downhill. In addition to the tunnels there are several railroad trestles that you cross as the trail switchbacks along the mountain side.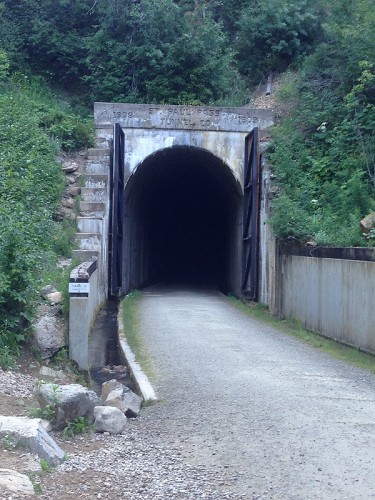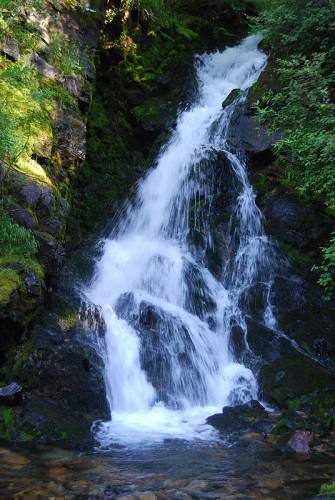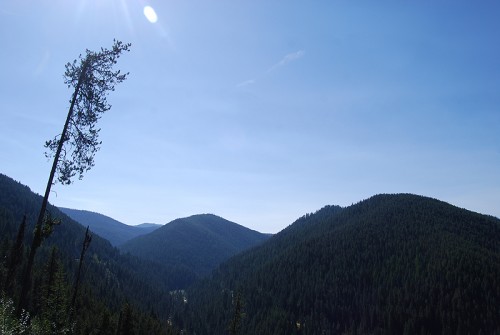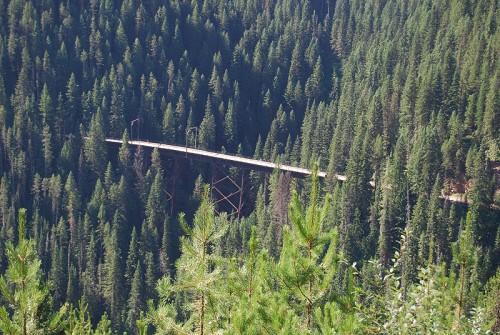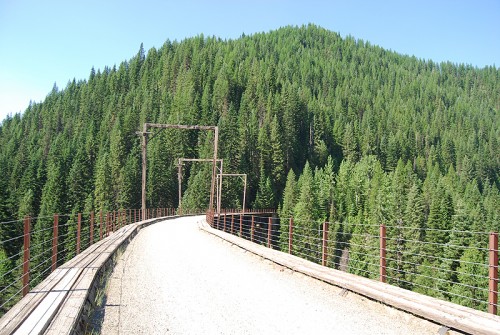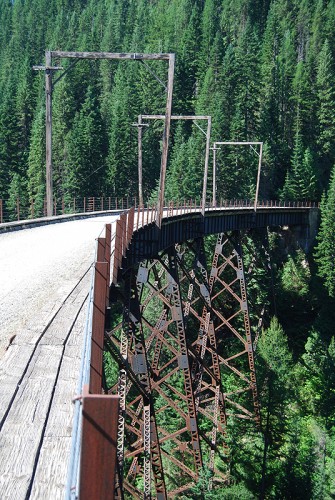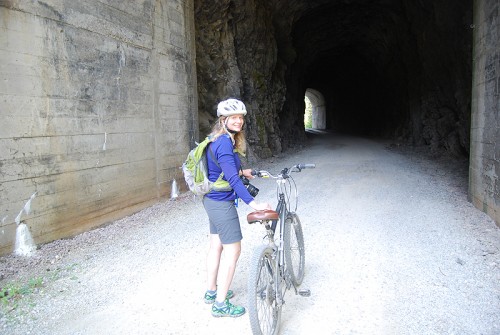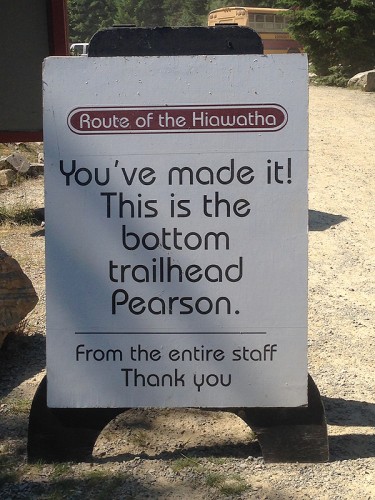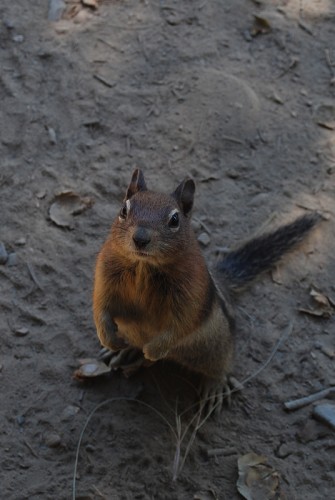 It was a great day for a bike ride, as it was not too hot. We reached the bottom of the trail and decided that we would take the shuttle back up to the start of the trail and the parking lot. While we were waiting, Emily drank her "Emily Coke" and we were amused by the chipmunks.
It was a fun start to our trip. We turned in our bikes and had a long drive ahead of us to Glacier National Park in Montana.